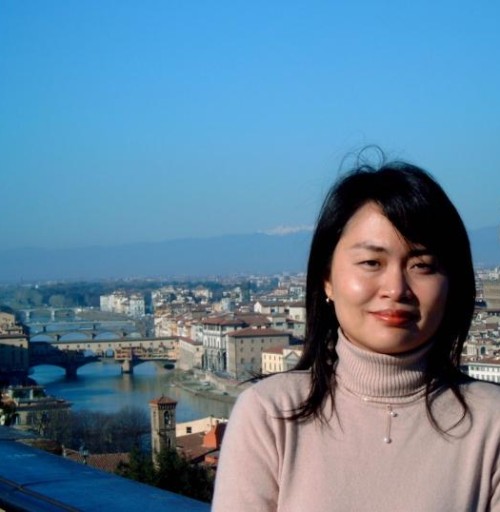 Fumiko Zaccagnini
Born in 1969 in Sacramento, California, USA.
A Japanese national, she has been living in Florence since 1997 with her Italian husband Alberto and two children.
Since she was a teenager, she has been interested in the English language and culture, and at university she studied English Literature.
She lived in England for one year attending a University course of English and lectures of English literature, anthropology and religious studies.
She taught English for four years at an international junior high and high school in Japan, where her previous experiences of living in England proved very useful, not only to teach English, but also to communicate better with foreign teachers and children.
During the first two years of her married life she lived in Japan with her Italian husband, and spoke in English with him, but as soon as they moved to Italy, she enrolled at the Cultural Centre for Foreigners of the University of Florence, where she attended a one-year Italian course focusing on Italian grammar.
While bringing up her two children, she had a lot of practice in the Italian daily life, and now she is able to express herself fully in Italian, as well as in English.
Since her two children have grown up enough, she can now dedicate herself more to her work, that is, teaching Japanese, translation and interpreting.
Thanks to her own every day experiences of teaching Japanese to her husband, she can see the Japanese language from the point of view of a non-Japanese, and has a deep insight in the Italian language and culture.
Alberto Zaccagnini
Born in 1961 in Rome, Italy.
An Italian national, he lived in Florence from 1982 to 1993, then in Japan until 1997, and finally moved back to Florence where he now lives, with his Japanese wife Fumiko, and their two children.
Ever since his childhood, he's been always been fascinated by languages, and thus learned English, French, German and Japanese.
In 1990 he completed his 3-year studies intranslation and interpreting to and from French at Florence's "Institut Français de Florence", earning the top grades.
In 1991 he earned the "Deutsch als Fremdschprache" certificate issued by Germany's Goethe Institute, receiving the top grade.
In December 1993, just after graduating from the University of Florence with a degree in Political Sciences (major in international law), earning the top grade, he moved to Nagoya, Japan, where he lived for 4 years, teaching Italian, English and French at Japan's most famous language schools and at the Cultural Centre of NHK (Japan Broadcasting Company).
While living in Nagoya, starting in 1995, for 2 years he ran a small school of Italian at his home; in 1998 he established AZ Language Services in Florence, Italy.
His Japanese experience made him aware of the peculiar problems that people of each distinct national, cultural and linguistic background are confronted with when studying Italian: he therefore developed a unique method to teach Italian, taking into account such problems.
Alberto believes that the good sides of each culture in the world can help the Italian society to improve; that is why he wants to encourage and help you to communicate with Italians and share your unique outlook on life with them.